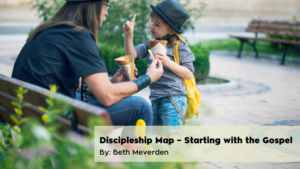 Discipleship Map – Starting with the Gospel 4/21
Parents and grandparents are often at a loss when it comes to discipling their children. There's a process I have gone through with teen as a student minister and with our children that I learned in youth ministry training in college. It is pretty simple, but it's a strategic approach to discipling. You ask yourself some basic questions and then make a plan for taking the next step in discipling. It is a basic Discipleship Map. I will cover each step in detail in the next few posts! Let's start with a question about the Good News.
1. Has my child ever accepted God's gift of salvation through Jesus?
a. If not, then pray for God to show you how to tell your child the Good News of the truth about salvation. There are many awesome options for you online. I have a blog post that gives you LOTS of options of how to present the Gospel to your child. I recently updated this post and have made it public again just for YOU! I took it off my blog because it is part of a curriculum I am offering for free on my website: bethmeverden.com The curriculum is called Alphabet Theme Weeks and it is designed for parents teaching their children the alphabet. It presents creative outside, inside and adventure ideas to teach the alphabet! I used many of these ideas with my own children and they are so fun. The "G is for Gospel Week" is one of my VERY FAVORITES! I share it often because it's not just for parents of preschool children, it explains the Good News of the Gospel in simple terms that can be expanded depending on your child's needs and level of understanding.
b. If so, that's AWESOME! You can go on to the next question or spend some time helping your child practice telling others the Good News using the ideas in the "G is for Gospel Week" blog post or your favorite Gospel presentation method.
The next post will cover the next step in which you will answer this question:
2. Does my child know how to talk with God in prayer?
And I am certain that God, who began the good work within you, will continue his work until it is finally finished on the day when Christ Jesus returns. Philippians 1:6
If you have never shared your story about the time you accepted God's gift of salvation through Jesus with your child, this would be a great week for that!